Latest developments:
U.S. President Joe Biden will host NATO chief Jens Stoltenberg for talks Monday with support for Ukraine at the top of the agenda ahead of next month's NATO summit.
South African President Cyril Ramaphosa's office said Thursday that he'd spoken by phone with Russian President Vladimir Putin about the upcoming visits to Russia and Ukraine by a delegation of African leaders who are seeking to help resolve the conflict.
Ukraine on Thursday appeared to be launching its long-anticipated counteroffensive to try to recapture land in the eastern and southern parts of the country that Russia seized in the earliest weeks of the war more than a year ago.
The Kyiv government made no announcement of its battlefield movements, but its forces mounted a major attack with tanks and armored vehicles in the southern region of Zaporizhzhia. Russia said it thwarted Ukraine's initial advance, maintaining the territorial status quo.
Ukrainian officials have for months talked about a counteroffensive as they mobilized units trained by the West and collected new weaponry from the U.S. and European allies. Russia has reported that in recent days Ukraine has attacked front lines held by Moscow's troops in the east and south in intensified fighting.
In Photos: Ukrainians Flee Flood Following Destruction of Kakhovka Dam
Ukraine could be involved in a monthslong effort to recapture the 20% of its country controlled by Russia.
It appears one direction of the attacks is southward toward the Sea of Azov, an effort to knock out a bridge that links mainland Russia with the Crimean Peninsula, which Moscow seized in 2014 and is a critical base for its military operations.
Ukrainian President Volodymyr Zelenskyy said Thursday that he visited the Kherson region where thousands of people are coping with flooding following the destruction of the Kakhovka dam.
Zelenskyy shared a video on Telegram of him meeting with officials and said they discussed evacuations, restoration of the region's ecosystem and the military situation in the area.
President Volodymyr Zelenskyy attends a meeting June 8, 2023, with city authorities during his visit in Kherson, following floods and damage sustained at the Kakhovka hydroelectric power plant dam. (Ukrainian Presidential Press Service / AFP)
That followed his nightly address on Wednesday in which he called for a 'clear and quick response from the world.'
He said 'large-scale efforts are needed,' including the help of such groups as the International Committee of the Red Cross.
The ICRC said earlier Wednesday that it was closely coordinating with the Ukrainian Red Cross to support the humanitarian response to the dam's destruction.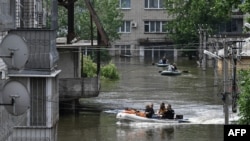 Volunteers in boats assist during an evacuation from a flooded area in Kherson, Ukraine, June 8, 2023, following damage sustained at the Kakhovka hydroelectric power plant dam.
Ukrainian Foreign Minister Dmytro Kuleba said NATO Secretary-General Jens Stoltenberg 'promised NATO mechanisms will be used to provide humanitarian assistance.'
The governor of the Kherson region said Thursday that about 600 square kilometers were under water.
Governor Oleksandr Prokudin said about two-thirds of the flooded land was on the side of the Dnipro River occupied by Russia, while one-third was on the side still under Ukrainian control.
Prokudin said efforts to evacuate people from flooded areas were ongoing.
The hydroelectric dam collapsed Tuesday, with Russia and Ukraine blaming each other for the destruction.
Some information for this report came from The Associated Press, Reuters and Agence France-Presse.